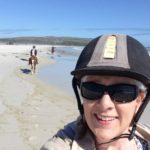 Karen Elowitt is a Florida-based travel editor, journalist, copywriter, and photographer. She is currently a PR specialist at The Travel Corporation in Delray Beach. She has previously worked as the editor of AFKTravel.com, as an editor with travel expert Peter Greenberg, as a freelance travel writer, and as a newspaper reporter.
Karen grew up in dull suburban Los Angeles, where she dreamed of traveling the world and living anywhere but L.A. She got her wish. She has visited 135 places in 32 countries and lived in London, Johannesburg, the U.S. Virgin Islands, Boston, San Francisco, Florida and Brooklyn. She's swum with tiger rays in Mexico, trekked on horseback in New Zealand, gotten lost on the metro in Moscow, and sweated in the Negev desert in Israel. Along the way she got a Master's degree in International Affairs from Boston University's London campus, and studied journalism at both Northeastern University in Boston and the London School of Journalism.
Karen started her career in newspapers, first as a reporter for a Boston-based weekly newspaper, then as a reporter, copy editor and page layout designer for a suburban Los Angeles daily. Eventually fate led her to the office of nationally-known travel expert Peter Greenberg, where she wrote and edited travel content for his web, TV, radio and print projects. For three years after that she was an in-demand freelancer, contributing articles, blogs, photos and copy to clients such as CNBC.com, Priceline.com, USAToday.com, and Destinations of the World. She was also the chief researcher on Peter Greenberg's bestselling book The Best Places for Everything, and a contributor to his previous book, Tough Times, Great Travels.
For three years she was the editor of AFKTravel.com, a comprehensive travel website exclusively devoted to Africa. During her tenure there she lived for a year in Johannesburg, reviewing and writing about hundreds of restaurants, hotels and activities all over southern Africa.
Karen now lives in Delray Beach and promotes TTC's extensive portfolio of brands, including Insight Vacations, Lion World Travel, African Travel, Inc., Busabout, Evan Evans and Red Carnation Hotels. She blogs at her personal website, TheTravelWizard.com.
Read more about Karen's travel style in this profile on JohnnyJet.com.